Introduction
Welcome to Sweet Addictions Bakery, where passion meets confectionery expertise. If you've been searching for the perfect haven to satiate your sugar cravings, look no further. Our bakery is more than just an establishment; it's an experience that caters to your taste buds and uplifts your spirits. With a wide array of delectable treats, all crafted with love and precision, we are dedicated to bringing joy to your palate. In this article, we'll take you on a journey through our delectable offerings, and our dedication to quality, and answer some common questions to enhance your bakery experience.
Sweet Addictions Bakery: Satisfying Your Cravings, One Treat at a Time
At Sweet Addictions Bakery, we pride ourselves on being the epitome of sweetness. Our diverse range of treats caters to every palate, from the classic to the adventurous. Sink your teeth into our sumptuous cakes, each a masterpiece adorned with intricate designs that make every occasion memorable. Looking for a small indulgence? Our cupcakes, cookies, and pastries are crafted with precision, ensuring each bite is a moment of sheer delight. We also understand the importance of dietary preferences, offering a range of vegan, gluten-free, and low-sugar options, so everyone can join in the sweetness.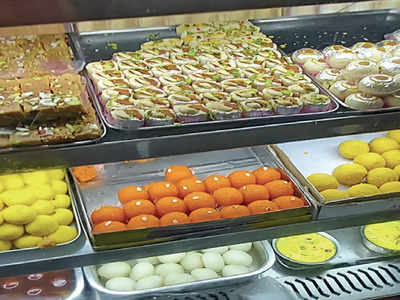 The Artistry Behind Our Creations
Sweet Addictions Bakery is not just a bakery; it's a creative sanctuary where each treat is a work of art. Our skilled bakers and pastry chefs pour their expertise and passion into every creation. From sculpted fondant decorations to hand-piped icing, our attention to detail sets us apart. We believe that aesthetics are just as important as taste, and our visually stunning confections are a testament to that commitment.
Quality Ingredients, Unparalleled Taste
What sets Sweet Addictions Bakery apart is our unwavering dedication to quality. We believe that exceptional ingredients are the foundation of exceptional taste. Our bakers meticulously source the finest ingredients, ensuring that every bite bursts with flavor. Whether it's the velvety texture of our cakes, the buttery goodness of our croissants, or the perfect balance of sweetness in our macarons, each treat reflects our commitment to delivering an unparalleled taste experience.
Exploring Our Irresistible Menu
Prepare to embark on a culinary journey as we delve into the delectable offerings that make Sweet Addictions Bakery a true haven for dessert enthusiasts.
Decadent Cakes for Every Occasion
Whether it's a birthday, wedding, or any special celebration, our cakes take center stage. Indulge in classics like rich chocolate or tangy lemon, or explore unique flavors such as salted caramel and raspberry delight. Our cakes are not just desserts; they're memories waiting to be savored.
Divine Cupcakes: Tiny Bites of Joy
Perfectly portioned and exquisitely decorated, our cupcakes are a delightful treat for any day. From red velvet to matcha green tea, each cupcake is a miniature masterpiece that promises a big flavor in every bite.
Artisan Cookies: Crunchy, Chewy, Blissful
Dive into a world of textures and flavors with our artisan cookies. Whether you prefer the crunch of a chocolate chip cookie or the chewiness of an oatmeal raisin, our cookies are made to satisfy your cookie cravings.
Pastries That Take You Places
Transport yourself to a French patisserie with our delectable pastries. From flaky croissants to buttery danishes, each bite is a journey to the streets of Paris. Indulge in the simplicity of a perfect pastry, expertly made and utterly irresistible.
Macarons: Elegance in Every Bite
Experience the elegance of French macarons, where delicate meringue shells embrace luscious fillings. With flavors ranging from pistachio to passion fruit, our macarons are a harmonious symphony of taste and texture.
Custom Creations: Your Imagination, Our Canvas
Have a unique vision in mind? Our custom creations bring your sweet dreams to life. Collaborate with our skilled decorators to design a cake that reflects your personality, making your special moments even more memorable.
FAQs: Your Sweet Addictions Bakery Queries Answered
Q: Are your products suitable for those with dietary restrictions? A: Absolutely! We offer a variety of options, including vegan, gluten-free, and low-sugar treats, ensuring everyone can enjoy our delights.
Q: Do you accept custom orders for special occasions? A: Yes, we love turning your visions into reality. Our custom creations add a personal touch to any event.
Q: How do you ensure the freshness of your baked goods? A: We bake in small batches to maintain quality and freshness. Additionally, our packaging is designed to preserve the flavors and textures of our treats.
Q: Can I place an order online? A: Certainly! Visit our website to explore our menu and conveniently place your order online.
Q: What sets Sweet Addictions Bakery apart from other bakeries? A: Our commitment to using premium ingredients, attention to detail in design, and a diverse menu catering to various tastes truly make us stand out.
Q: Do you offer delivery services? A: Yes, we provide delivery services to ensure you can enjoy our treats wherever you are.
Conclusion: Embrace the Sweet Addiction
Sweet Addictions Bakery is more than a bakery; it's a destination where your sweet cravings find their perfect match. With a commitment to quality, creativity, and customer satisfaction, we invite you to indulge in a world of confections that will leave you craving for more. Join us in celebrating the joy of desserts, one delectable treat at a time.